How did I get Here?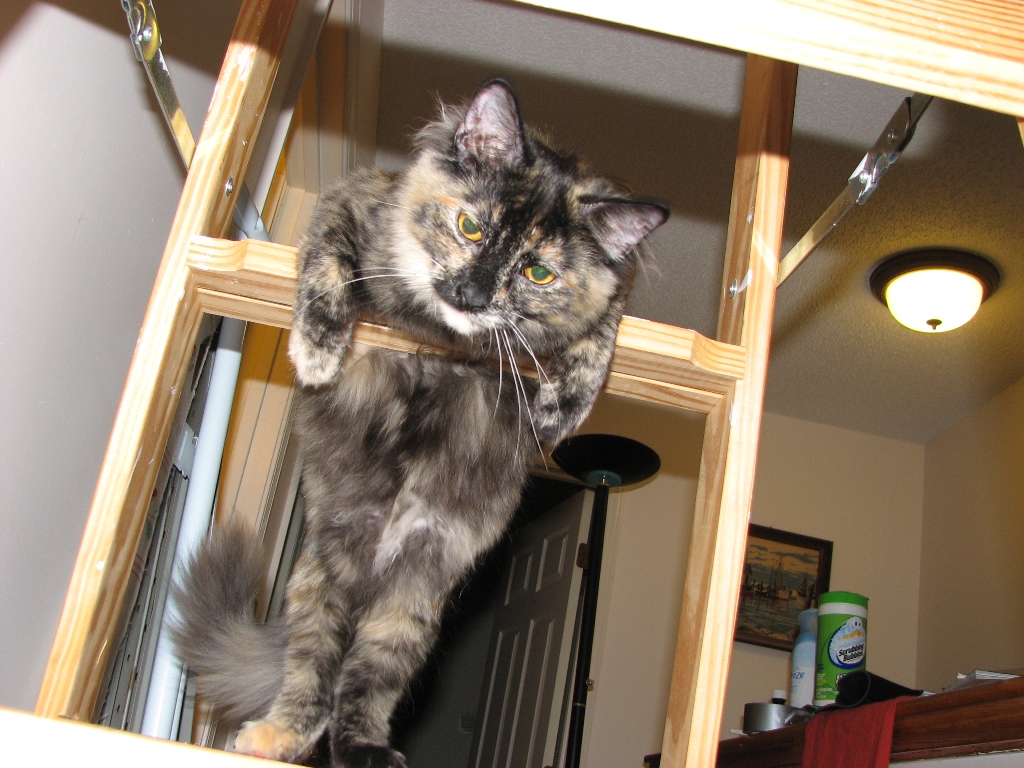 It's quiet and dark… I hear something tearing around downstairs- to the scratching post, then batt aArista! mousie around the living room… Chirps of excitement and then a wicked dash upstairs- turn the corner (shredding carpet through the turn) and in one adept leap, she's on my bed, on my chest, panting… purring.. and she is happy. Arista has done her morning triathlon and it's time for a 5 min nap nestled on my chest- usually leaning against my face.
Ellie on the other hand- she's snoring in the bed next to me.
I should clarify- she's a cat too- only instead of being one and a half, she's 13 with kidney failure. She looks up as I pet her back- she too begins to purr. The rumbling is now filling my chest from the young one and vaguely reverberating from the older one next to me.
This is how mornings should be- relaxing. A time to take stock and enjoy the little things.
I shuffle myself to a seated position on the side of the bed- but only after having a 2 minute discussion with Arista on the fact that she needs to move. Her passive aggressive stare at my toes wiggling under the sheets is her way of saying "you can afford another 5 minutes.".
No I can't.
My feet touch the floor, I feel the creaks… it's not the floor boards, it's my arthritis. Yep- it's true, as you get older things tend to ache a bit more but no matter. And what's this inhumanity? I have to walk to the shower now? Sheesh… I gotta buy me a conveyor belt.
I hobble my way in the dark to the bathroom and flick on the light- I look up and observe the medicine cabinet- I see the shelves with 6 different medication bottles, 4 types of vitamins and other assorted bottles of cold remedies and cough syrup. With a sigh (and perhaps a yawn or two), I'm reminded that life for me is different… as it has been since what feels like forever…
To me, these medications are a fact of life now. I am an Embryonal Rhabomyosarcoma Survivor of 22 years which by the way I count from when I was declared free of the disease in July 1988. I was actually diagnosed 2 years earlier during the final months of my Senior year in High School. My diagnosis was unclear for several weeks after my first surgery because the hospital I went to could not identify it and they sent it off to hospitals in NYC & Washington DC for typing.
From that first Surgery- things began to change for me in ways I could not anticipate. I learned to roll with the punches as it were and take the ups & downs as gracefully as I could. Dignity was quickly lost as doctor after doctor, tech after tech, asked me to strip down to my underwear and put the gown on with the opening in the back.
My tumor was in my abdomen and pelvis- it was quite entangled around blood vessles & the major nerves for both my legs. It's origin is of much debate between the doctors I had. Some said Prostate (But they didn't remove my prostate) and others said "connective tissue and muscle near the right hip". My treatment was "Multi-therapy" in that I'd alternate the chemotherapy with High Dose Radiation. There were 5 different chemo drugs and my radiation was twice a day for 2 weeks, and then a separate session for a week and a half.
It was very difficult to get any information about it. There was no Internet back then and the closest thing to it was at the library with varying medical databases on TRS-80 Radio Shack computers connected to Medical Schools.
Sure, there are other Rhabdo sites- some do fundraisers but they're all focused behind one person. Then there are the scientific ones that break down the cells & genetics of the disease trying to find a common thread that can lead to a simple cure. Then there are the organization based sites that give some information about the disease but not a way to speak with someone who's going through it.
I really do hope that by sharing my experiences in future blog posts, that people can find comfort in the fact that they are not alone. I am acutely aware that people visiting this site may be patients or their care givers. For some of you, the outcome may not have been what you or anyone in your position would want. I am not doing this to be "rah rah, I survived". I am doing this to provide some support. Perhaps a giggle or smile but always a reminder that life can continue while on treatment and beyond.
And now I have other things to do…
I'm done with my shower and I'm back sittin in my bed again. Arista bounces into bed and rubs against my arm purring.
I realize- aw crap, it's Saturday!
Ellie looks at me from the same spot she was in when I went to the bathroom as if to say "You're a Maestro when it comes to messin up my sleep time- second only to the bezerk speed machine rubbin against your arm."
As I lay down, Arista claims her spot on my chest. I doze off to enjoy a few more hours sleep. I'm back to my relaxing.. savoring the little things- like Arista… and the fact that she just leaned into my Chin and I now have her hair up my nose… Oh well, C'est La Vie and I feel good!
Note this was originally posted on www.rhabdomyosarcomainfo.com on 1/18/2011.